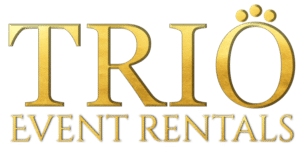 You've got an event to throw, and you want to find the right party rentals company that can provide the quality products that you are looking for. TRIO's party rentals Bel Air service offers exactly that. We are able to provide you with standard event rentals as well as give you a boost in event planning, We offer a lot more than just plastic chairs and tables, We offer a full service party rental and we are ready to help you make your next event a total success.  Ready to see why it's the right one?  Keep on reading.
Event planning and party rentals in Bel Air - At your service
Whether it's a birthday party or a fancy cocktail event for your co-workers, you want to know that you're getting quality products.  Sometimes it can be challenging to figure out what that may mean for your event.  That's where our experience with party rentals is able to step in.  Not only do we have experience in helping fit-out the best equipment that will fit your desired party theme, we also are ready to put that experience in planning your party so that you don't have to concern yourself with whether or not your design or idea is good.  
We focus our services mostly in party rentals (see below), but we also understand that you want to prioritize the event through the type of equipment that you choose.  Do you know how to choose the best cutlery for your family reunion?  Are you positive that those selected tablecloths are going to blend in nicely with the decor scheme that you're using elsewhere?  Have you got the right tables and chairs for keeping everyone seated and comfortable?  These details all matter and it can be hard to get them right.  We have the experience and comfort with our party rental equipment to help you make the right choice every time.  Event planning is as much about the small details as it is about the party itself.
guidance from start to finish as local event planners
What it comes down to, when you trust us to be your team of event planners, is that you will be able to enjoy an event from start to finish and from big details to little, that is exactly what you wanted from it.  You will find that our wide selection of party rental equipment, expertise, experience and professionalism will help you to feel better about your event from the moment that you place your order from us. 
We are so looking forward to be your local party rentals vendor and we are proud to be able to offer our services to the Bel Air area.  When you are searching for a one-stop option that is going to offer you everything you could want for your party — both in supplies as well las professional experience — you'll find that our party rentals Bel Air service is the best option to go with.  All you have to do is trust us to deliver your order and simply sit back and relax while we will do all the work. We are looking forward to giving you exactly what you want and need for your next special event in Bel Air.
Top quality party rentals in Bel Air CA
If you've taken a look around at the competition, you know that everyone tends to offer similar details.  But, we're here to show you that we are going to be your best choice for party rentals in Bel Air.  Why?  High end luxury will be present in every element of our business.  There's no better way to show this to you than taking a look at the most important segments that you're looking for.
Top quality rental products: Sure, you've probably heard this before, but we really are the real deal.

 

We offer a wide spread of options, all of which are carefully inspected and assessed to make sure that they are at the top of their game.

 

All the better to help you enjoy professional quality when you rent from us.

 

Flatware, tablecloths, glassware, sofas, bars, tables and chairs are top tier and going to give you and your guests the prestigious look and feel that you're going for.

 

Unlike other companies, we don't offer everyone tacky options or make you choose from a single option.

 

We're home to a wide catalogue of options that will give you the customization you want.

 

After all, you know the prestige that you want to create, and what's right for one kind of event won't be right for another.

 

Whatever your event and party equipment ends up to be, it'll look of fancy and "just so" that you'll wonder why you ever went anywhere else before.
Superior service for a better experience: Not only do we offer top of the line products, we also follow that up with an assurance that you are going to get better service along with this.

 

This means that you'll be able to enjoy conveniences such as timely drop-off, professional set-up and efficient pick-up all based on your own timeframes and needs as you define them.

 

Our talented, professional and experienced staff will follow your directions exactly and be the muscle you need to make sure that everything looks just right, when and where you want it be in place.

 

You'll still be in charge of everything that you want to control, and our staff are simply ready to serve you and your needs and preferences, even if there are any last minute changes that would derail an inferior company.

 

We'll be at your side to help you make whatever adjustments that are required. We also take detailed notes when you place your order to make sure that you are getting exactly what you ask for on the day-of.
Competitive pricing: The final element of this trifecta is that we understand you want to throw a quality party on a budget.

 

That's why we offer competitive pricing that will give you the best rates in Bel Air, particularly when it comes to the actual quality, of the supplies and eat service that you are getting for your fees.

 

You'll get true value for money in all of our rates.

 

We offer no hidden fees and will do whatever we can to save you a few dollars here and there.

 

Just another way in which we are here to serve the general public and make sure that everyone has access to quality event supplies.