Party Rentals Santa Monica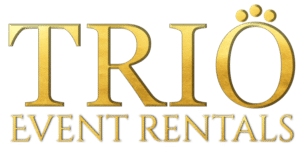 Party Rentals Santa Monica
There are a lot of details that go into planning a successful party.  One of the most important factors to determine if the party would go as planned is using the service of Party Rentals Santa Monica by TRIO Event Rentals. Even when you search your phone for "party rentals near me" you would probably end up finding our service, Due to our positive feedback and great customer reviews we are always ranked high on every search. You've found the right company to deliver everything you need for your next event. Our reputation stands before our name and we work hard to make sure all of our customers are happy with our service.
Professional party rentals in Santa Monica
We are honored that you are considering our event rental service to help you with your upcoming party and we understand completely and looking forward to itemizing out our redeeming qualities so that you can understand our attention to detail.  Here's what you can expect from us.
Superior quality supplies: We are very proud of the supplies that we can offer up for your party.

 

We've carefully perfected our catalog and warehouse to include only the best options and we feel as though you are truly going to be able to enjoy the sheer focus we've put into that, even if it's hard to imagine at first.

 

After all, isn't it just a chair?

 

We know better, and that's why we make sure that our chair rentals are all going to be premium quality and focused on offering your guests comfort so great that they'll actually comment on it!
Impeccable service: All of our details are entirely focused on being superior to the other options that you'll find around town.

 

We are timely, organized, sophisticated, experienced, dedicated, and passionate about helping you make your party a success.

 

We are in this business not because we want to take your money, but because we want to help you make your event a total success even in the smallest details.
Experience and training: We also have an intelligent and well-trained staff that are looking forward to putting their education and experience to the test.

 

What this means for you is that you'll have a team of talented individuals that are going to be ready to help you plan, execute and perfect your party experience even in the small details that you possibly couldn't think of yourself.

 

That's what we're here for, after all.
Ready to help you make magic: We honestly believe that parties are great examples of magic coming to life.

 

Will you let us help make that a reality for you?

 

All of our experience and past success has come from the sheer fact that we want to help you bring your images and plans to live right in front of you.

 

This is the mentality that we focus on in all of our party planning and renting goals.
Planning to tear down and all in between: If you need help in event planning or you just want to learn about ordering supplies, set-up, and delivery, we're there.

 

We can offer you a full service right here in-house so that you only have to coordinate with us and not 10 different companies with 10 unique agendas.

 

We'll happily offer our professional services to you however we can to make your plans come to life on your own terms.
Full service for event planning
So, as you can see, we've got a little bit of everything here to offer you the professional atmosphere and supply that you want when it comes to making your event a success.  But, what does that mean?  A whole lot when it comes to our warehouse and catalog contents:
Table and chair rentals: We offer chair rentals and table rentals for all events and situations so that you don't need to go with cheap and uncomfortable for either.

 

From receptions to celebrations to corporate events, we're ready for anything and everything for seating.
Table settings and glassware: We also offer practicality and variety in table settings and glassware so that you can get just the right prestigious level of detail that will help you to offer up the right appeal to your guests of honor.

 

Not sure what you need?

 

Allow us to take care of the details in everything from cutlery to centerpieces and beyond.

 

It'll be nothing short of amazing, that's for sure.
Outdoor equipment: Couches to standing tables to heaters to lighting.

 

All of these details matter especially with an outdoor event.

 

We offer all of that and more without a warehouse full of just the right pieces to make any event a total success.

 

We are looking forward to helping you create just the right touch to bring the indoor comfort expectations, outdoors.
Event planning support: We do focus our services on the idea of party rentals near you, but we also offer support in event planning as well.

 

Whether you just want an experienced eye to take a look at your finished plans, or you need a bit more guidance on the theme or colors, etc, we're here.

 

You'll be able to get that peace of mind that comes from the professional guidance and also know that it's going to help make your event the best it can be.
Santa Monica is a diverse place filled with professionals that are looking for a way to express themselves at every event.  We get that, and we put that same professional attitude into every party that we work with.  You'll be able to make that corporate event a hit, and you'll even be the go-to person when it comes to hosting and throwing a family reunion.  These are all dreams that we can help come true with professional-level party rentals that are made all the better with our superior service and eye for detail.  If you're ready to take your event to the next level without breaking the bank to do so, you'll find that we are the ideal teammates to help you do just that.  We can't wait to get started.
Summary
Reviewer
Review Date
Reviewed Item
Party Rentals Santa Monica
Author Rating
Product Name