Party Rentals Studio City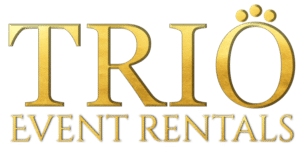 Party Rentals Studio City
When you're looking for party rentals in Studio City, you need to know you are dealing with a company that can deliver the quality you deserve. With TRIO event rental service we guarantee you will love our products. From chair rentals and table rentals to Heaters and glassware. we are always thrilled to help our customers create their kind of party theme. we are going to be the most professional and approachable option that you'll find in Studio City.  Curious about what we'll be able to offer your next high end event?  Here are all of the details you should know.
We focus on offering party rentals in Studio City to all sorts of events.  Whether it's a family reunion, a big birthday party, a wine-and-dine corporate event or something else entirely, we've got you covered with local convenience being a priority.  
The beauty in going with us is that we are, in all seriousness, a one stop shop.  We focus our business on superior service and complete customer satisfaction. we make sure that we've got what we think everyone will need.  This includes a broad warehouse-style supply of all kinds of top quality products in just the right colors to fit into your scheme, talented staff that are looking forward to helping your event the best it can be in all of it's details, an experienced and an educated event planner that can help you fine-tune the details that require attention.  As if that wasn't enough, we also offer it to you at the best rate in the market.
We are looking forward to helping you see the positive difference that a reputable and professional party rental company can offer you.
Help and advice from event planning professionals
We focus our services on the idea of renting out the right supplies and equipment to your specifications.  We offer you a selection of colors, designs, themes and more.  We also encourage you to bring your own ideas to us so that we can help you with your own event planning.  However, what if you're looking for a bit more guidance?  Do you know where to turn?
As part of our staff and our event planning business, we are proud to be able to offer experienced professionals specifically educated and ready to help you out with the actual design of the event itself.  Whether you want this as a second opinion for your party plan or you actually are looking for guidance on every step of the plan itself, this is it.  Just another way in which we focus on offering the best of everything so that you can make sure of it for your next fancy event.
different styles. Those would go hand in hand with our glassware collection that includes items such as: Wine glasses, Goblet cups, Champagne flutes, High ball glasses, Martini glasses and more. Browse our inventory and make the selection that is suitable for you. Give us a call if you have any questions, We love to talk to our customers.
Obsessive about customer satisfaction at TRIO's Party Rentals Studio City
When you are hosting an event — whatever the event itself may be — you want to know that you are going to go with the best of everything in order to make it a successful.  Not only do we get that, we see it as a challenge to make sure that your event is even better than you possibly could have imagined.  We do this in a variety of ways that are sure to impress you on their own as well as all blended together.
Best of the best for event rentals: Every single item in our warehouse has been especially handpicked as being the best in it's category.

 

From sofas to cutlery to tablecloths and chairs, we understand that you want luxury and class even in those often missed details.

 

Take the chairs, for instance. You probably know from past experience that not all chairs are made equal. All of our chairs have been thoroughly tested an approved as being convenient second and comfortable first.

 

Now imagine that same priority treatment in cutlery, outdoor gear and more!
Friendly and knowledgeable staff: Everyone on our team of staff is ready to help make your event a success.

 

This applies to our event planner with their expertise and experience that will help you to make a great event from start to finish. It also applies to the general staff members that will be responsible for making sure that your event runs smoothing in delivery, set-up with approval and tear-down.

 

Scheduling, last minute disasters, and stress-free design is what we do best.

 

When you hand over the control to the delivery of your rental supplies, you certainly won't be disappointed in the result that you get.
Effective pricing and savings: Perhaps most importantly is the fact that we are focused on trying to save you as much as possible with it comes to your party.

 

This can be seen from the great rates that we charge for rentals as well as the fact that we really do cater to the local events right here in Studio City.

 

We are true believers in local community spirit and this reflects in how we keep our pricing as low as possible.

 

You'll find our rates competitive and they're also going to be wonderful especially when you really get a feel for the top quality that you can enjoy with them.

 

Low prices for top quality rental equipment; just the way that party rentals really should be.
Summary
Reviewer
Review Date
Reviewed Item
Party Rentals Studio City
Author Rating
Product Name