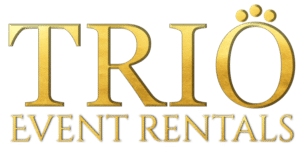 Trio Event Rentals is all about helping you create beautiful memories which happens in any occasion that you celebrate life's gift. And it's these experiences that define who we are and what we do. For years, we have elevated countless numbers of parties in Tarzana and Los Angeles county through our party rentals services. Be it anniversary celebrations, wedding ceremonies, birthday parties, graduation parties, baby showers and more- the list is truly endless.
Our exclusive party rentals warehouse comprises of state of the art offerings. These include all the party essentials including sofa rentals, chair and table rentals, dinnerware rentals, linen rentals, outdoor equipment, buffet and serving rentals amongst many more. It's all about working by your side to design a breathtaking celebration that leaves the audience stunned for more reasons than one.
Bring the best party rentals in Tarzana
Your most anticipated party celebration is one of our own
There is a reason why many clients keep calling us for their events. At Trio's party rentals Tarzana, we treat your greatest events as one of our own. And that means playing a pivotal role in ensuring its absolute success. For years, we have provided numerous corporate entities as well as public and private sector clients with the best quality party rental offerings imaginable.
This includes tailor fitted options specialized for various event industries, wedding planners, caterers, and production companies and non- profit organizations amongst many others.
As your premier party rentals provider, we welcome you to witness décor with a difference. We possess professional event planners with years of skill and experience at hand in organizing some of the most curated events on our team. And that means welcoming innovation and seamless aesthetic appeal into your party's ambience.
Give your fiesta an innovative twist by mixing and matching hues, textures, fabrics and more. If you're working around a theme, allow us to help you choose timeless pieces that work seamlessly.
We're talking splendid table runners, linens, candles, dishware, silverware, floral elements and many more. Remember that every little detail counts and that's why we emphasize on customizing your theme to absolute perfection detailing.
Your event's atmosphere is dependent on how well everything pulls through together
The grand feeling of an event depends on how well you've managed to pull all the separate components as one together. A huge dependent factor has to do with the chair rentals that you finalize and that's where we at Trio's Party rentals Tarzana step in.
Tarzana Party Rentals At It's Best
Walk through one of the most comprehensive event rental inventories
Our comprehensive inventory is packed with the best assets that work to turn any ordinary celebration into a grand affair. We add and delete on a routinely basis, depending on client need and satisfaction. This includes a thorough survey carried out by our team of professionals of what's in trend what's out. And with the ever evolving event planning market of today, this step is imminent.
We ensure our clients get the greatest return on their investment made upon us. The end result is an absolute heartwarming affair with nothing but smiles.
It's always about cost effective convenience every step of the way
One of the most daunting facts about event planning is working around a budget. But believe it or not,Our Tarzana party rentals service has made hundreds of events possible with absolute convenience. This is why we welcome you to share your vision regarding your celebration. Devising a suitable budget from the start allows you to make selections that fit into your celebratory theme with sheer ease.
Not only do we assist clients when it comes to financial constraints by helping them make the best decision, we also offer absolute convenience in terms of delivery. Yes you heard that right.
Trio Event Rentals' efficient delivery system guarantees clients to get all their party rentals supplies delivered at their designated doorstep in Tarzana Village and beyond on time. Just let our team know your event's date and we'll handle the rest from there.
The right party rentals set the stage for a tantalizing sit down meal
Whether you plan on serving a la carte or wish to go buffet style at your next celebration, we've got you covered in all directions. Remember, it's a grand meal that guests look forward to any event so planning ahead from the start is so important for so many reasons.
Choose from our alluring selection of catering rentals that range from artisan wood fire ovens, charcoal grills, buffet table setups, heatproof dishes, other crockery and serving rentals and more.
Work alongside our team and let us know your vision and theme. Your aspirations and our expert suggestions are a winning combination by miles.
PLANNING A PARTY? Fill In The Form For A Quick Quote
Summary
Reviewer
Review Date
Reviewed Item
Author Rating
Product Name
Price
Product Availability