Party Rentals West Hollywood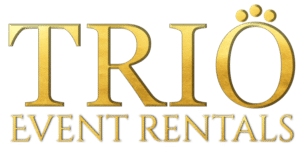 Party Rentals West Hollywood
Whether you are looking specifically for chair rentals or you're looking at something a bit broader such as party rentals items, you've found the right place to get it all delivered right to where you want it.  You'll find a little bit of everything when you are looking through party rentals West Hollywood.  First and foremost, you get local service that is ready to respond quickly incase you need some last minute tablecloth color change , you will also find a professional approach that you aren't going to find anywhere else.  Ready to see just what TRIO's West Hollywood party rentals would be able to offer?  
Trustworthy event planner service professionals
One of our objectives is to give you the best advice for making the most out of your event, Our event planners on staff would share their experience so that you can have a clear vision of what your event will look like.  We have years of experience and a full staff that are going to be able to give you the support, expertise and passion that you're looking for when planning and designing your next party.  Professionalism is what we make our priority and you'll be able to see it yourself in all of the facets of TRIO Event Rentals.
We love events and make it our mission to help your event be the best it can be through the use of quality rentals and impeccable service.  Now that you've seen all of the services that we can offer you, let's take a look at why we're going to be the right call.
All-inclusive service: From design to plan to delivery to set up to last minute changes to tear down, we've totally got you covered.

 

Our services are entirely designed to make event rentals as stress-free as possible so that you can put your energy on enjoying the event that you so carefully designed and planned for.

 

Our service will help you account for everything on your schedule so that even something as set-up is going to be taken care of by experienced staff that really do know what they're doing.
Local event planning options: We are so proud to be part of the West Hollywood centre, and we put our money where our mouth is by making sure that we can make your local event as successful as possible.

 

Since we are part of the local community just like you, we focus on setting reasonable rates and all sorts of other perks that are focused on promoting further local investment.

 

You can also find your comfort and satisfaction in knowing that you are helping keep local businesses going and that you are putting your own hard-earned money back into the community that you consider your home so much. 
Experience with party rentals in West Hollywood: Another detail that will show you that we are going to be the right call is that, you know, we actually know what we're doing!

 

We've been in business for a number of years and we've helped put together and design many events.

 

We can apply that experience to your local celebration so that it will be even better than you thought possible.

 

From birthday party to corporate event to family reunion to wedding reception, we're happy to scale our services to suit your needs, whatever you determine those best to be.
Meticulous care with party rentals West Hollywood
Professional Event Rental service: We run our business a bit different.

  We wanted to make sure the whole process of hosting your party would be easy, So we've invested in the right softwares to make it easy for a customers to place their orders.

We are proud to say that we learn from every event that we help design in order to better serve our customers.

 

We also focus on  how we approach abnormal situations to make sure that you are always treated the right way.

 

Through and through, we'll always offer you the best service as possible.
Everything from chair rentals to flatware rentals: Since you're looking for event rentals, we're proud to offer you a wide selection of options.

 

You'll be able to find a variety of chair rentals (since we understand better than a lot of people that not all chairs are made equal) and we also keep it going with tables and tablecloths, outdoor equipment including heaters, and even an impressive selection of flatware.

 

From tiny details to the big ones, it's all waiting for you to look through.
Full selection of all event rentals: Not only do we offer a wide variety in options to rent, we also offer a selection within each category.

 

Since we understand that what's right for a family reunion is not going to be right for a wedding reception, we make sure that we have a wide selection of options (that is constantly expanding and updating) so that you don't feel you are listed to only one or two options that just aren't going to give you the right feel.
Support offered with an event planner: Other than making sure that we always have the right kinds of supplies for your event of choice, we also make sure that we've got an experienced, passionate event planner on staff to help you out. Even if you know what you're looking for, having this carefully trained planner on-hand to look everything over can offer you a serious peace of mind in knowing that you haven't overlooked or missed anything in your event.

 

Seeing an event planner is not required, of course, but it is something that we offer right here in case you have questions, change your mind on something, or just would like a second opinion to help you bring it all together.
PLANNING A PARTY? Fill In The Form For A Quick Quote
Summary
Reviewer
Review Date
Reviewed Item
Party Rentals West Hollywood
Author Rating
Product Name