When it comes to an extravagant affair, hosts are pulling out all the stops to ensure their celebration is all things grand. Think along the lines of sheer royalty and VIP entry, sure to make guests feels like celebrities and beyond.
This 2020, red carpet rentals are the hottest accessory for events galore. Be it birthdays, anniversaries, weddings, corporate gatherings, heartwarming brunches or charity fundraisers and more- the addition of a red carpet speaks of curated and customized bliss. Did we mention the addition of velvet ropes and stanchions too- now that's what we call a royal themed collection?
From raising excitement levels and that brilliant dose of luxury to enduring an aura of high expectations from the audience all around- there is a reason why red carpets have become a symbol for Hollywood style entrances to dinner parties, Galas and movie premieres.
And just in case you're wondering why investing in a red carpet rental is everything your party ever needed, there's simply no reason to break a sweat. We're listing them down just for you. So let's take a look!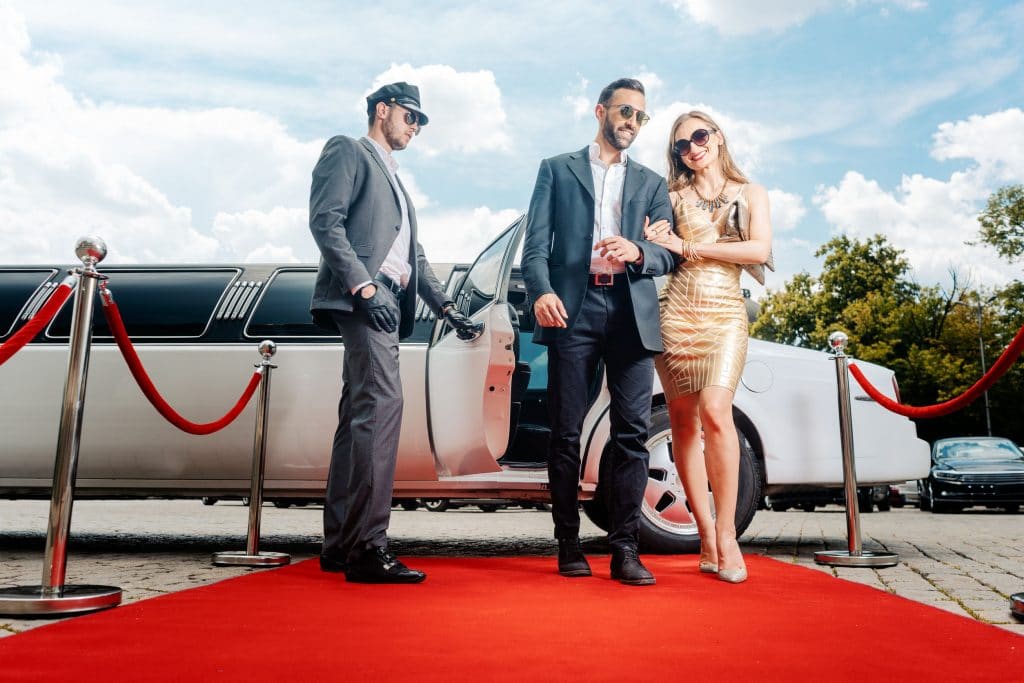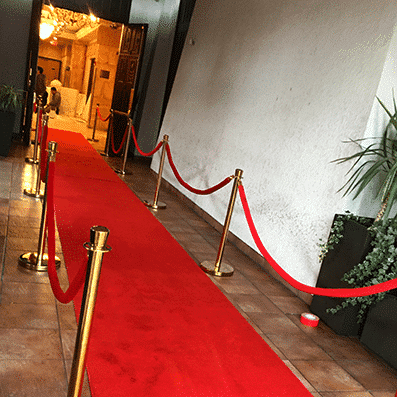 6 Ways Red Carpet rental can bring the Hollywood Glitz and Extravagance to your Bash
Every event's entrance has a purpose so make the most of it
Believe it or not, there is a huge purpose for every event's entrance. And that's exactly why event planners and hosts take extra care to ensure its grand aura. Entrances give attendees a sneak peek at how their evening has been planned. And since first impressions count the most, red carpets are your best bet at determining your event's success. Luxe, bold and oh so fabulous- that's red carpets for you.
Remember that guests may exit using side doors, may only pose for the cameras for a few minutes before leaving or simply walk past everyone just to say hello to you- but one thing is for sure. They will definitely be crossing that red carpet entrance. It's this element that incorporates great value so why not splurge and go full throttle at making it memorable.
Allow guests to set forth into the perfect setting of regal grandeur
The quality of a good host revolves around making guests feel every bit special. The addition of red carpet rentals exhibits that Hollywood fame aura. It somehow manages to turn any ordinary celebration into something spectacular. While rolling out this dreamy accessory, you're bound to see giant smiles light up across all of those attending. So why not make this surprise element something worth cherishing for guests. Did we mention how memorable it can turn out to be when it comes to pictures?
Every entrance serves as the cover for your book's story
If wow is the theme you are after for your party, we recommend rolling out red carpets as event bling by all means. The best thing about red carpets is that they go impeccably well with all sorts of themes and event types. Ballroom masquerades, weddings, baby showers, engagements and more- the addition of red carpets is that luxury filled, stellar detail that ties events together impeccably.
Generate mobile content the right way
Social networking has become such an integral component in today's modern era. You never know who you might bump into and how they can influence the current position in your life. This is the reason why generating mobile content the right way is pivotal for success at events galore. Red carpets allow you to meet and greet people from all walks of life. Be it strangers or long lost loved ones, communication is key. So why not go that extra mile towards making sure your event serves as a social platform for all.
Timing is of the essence and that's what makes red carpet entrances extra special
Create that buzz for your happening event the right way using red carpet rentals. Allow the world to know that your party was the grandest event of them all. From VIPs to sponsors, media and more- every person attending and covering the event should know that this party is the place to be. Give them that wow factor, even if it comprises of just a few magical moments.
Red carpets combined with velvet rope rentals and stanchion rentals spell magic for any event celebration
As you roll out the red carpet at your next event celebration, remember that you have the option of stanchions and velvet ropes too. These combine to offer an incredibly grand ordeal, reminiscing of dramatic Hollywood style premier experiences. Choose from an array of hues such as bold purple, red, black, white and gold as these tones work beautifully with monochrome reds.
At Trio Event Rentals, it's all about furnishing your party into a dream affair. Choose from an exciting range of stellar red carpet rental that come alongside chrome, silver and gold stanchion rentals and velvet rope rentals too. We also offer customized creations that attend to all of your background needs. These alluring designed frames can accompany any form of art you desire, serving as the best practical solution for guaranteed event success.
Contact us for your next event
Red Carpet Rentals Near Me
Summary
Reviewer
Review Date
Reviewed Item
Author Rating
Product Name