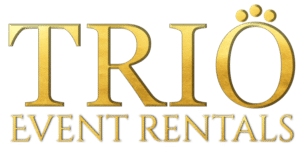 At Trio Event Rentals we want to help you create the perfect moment. A Wedding ceremony, Birthday, Bar mitzvah or a simple family gathering, Whatever the occasion that brings the family together is a reason for a celebration. When opportunity arises to celebrate with your loved ones you should seize the moment and enjoy it while you can. It is our duty, our commitment, our mission to make this event as special, as glamorous, and as memorable as possible. This is where Trio Event Rentals can help you with all your party arrangements. Chair rentals, Table rentals, Linens, Heater rentals, Glassware rental and table setting. Browse our large inventory of quality party rental products and choose your desired items to make your event a success. 
top quality party rentals delivered
It is our commitment to deliver top quality, flawless products that are  perfectly suited to your needs, desires and aspirations. We stock the best quality equipment, furniture and accessories, and we ensure that all the items are delivered and installed flawlessly, with utmost care for look and appearance, down to the very last detail. We strive to position your celebration  as an outstanding, unforgettable, very special event, second to none.  
All The Party Rentals Equipment In One Call
As a reputable party rentals company in Los Angeles with real customer reviews as seen on Yelp we are committed to the unsurpassed quality of our service ! We listen to you, we respond quickly, and we make maximal effort to address requests as rapidly and as swiftly as possible. The success of your event is our business. we are anxious to ensure that your event will be handled without a glitch,  and we'll walk the extra mile to make it happen!
So if you ever searched for a quality party rental service then you've found the right company.We are a full service event rental company in Los Angeles which means we will take care of all the event arrangements for you. Delivery, Setup and pickup. We stock a large inventory of quality products that will make your event stand out and leave a good impression on all your guests. We really want you to enjoy your special moment and to be happy when you celebrate with the people that you love and that are close to you.