Party Rentals Westlake Village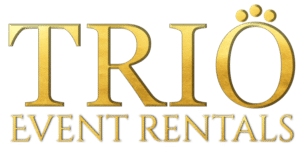 Party Rentals Westlake Village
Organizing an event isn't the simplest task of them all. Every host strives to elevate their party planning game. After all, your time, money and effort should always be worth the memory that guests take home with them.
Trio Event Rentals has worked long and hard to carve out a noticeable niche in the ever so evolving event planning industry. And with operations expanding into Westlake Village, there's no looking back.
We offer the greatest selection when it comes to all of your party rentals needs in Westlake Village. Our recent works as well as future design prospects have allowed countless individuals to upscale their celebration to new levels of amazement.
It's all about versatility when it comes to the finest party rentals. This includes dinnerware rentals, chair and table rentals, outdoor equipment rentals, catering rentals and more. Did we mention the plethora of innovative and versatile options in store for your next grand celebration? It's a sheer treat indeed for the locals here at Westlake Village.
Upscale Your Festivities into the Best Celebration in Town with Party Rentals Westlake Village
With a wide variety of quality products to choose from you will absolutely nail it, We know for a fact that your guests will be amazed by the quality of furniture we provided and you will rack in all the compliments. We genuinely put all of our efforts to make sure you will be happy, It's starts with a phone call and lasts for as long as you can remember. We are here to create wonderful memories from your planned event. Weddings, Birthday party, Bar mitzvah, Baby shower or any other occasion that calls for a celebration is where we will work hard for you so you can enjoy the party with your guests.
Brining in the Best Party Rentals Service in Westlake Village
Witness the latest styles and designs in catering rental options
Trio Event Rentals offers a wide array of catering rental options that work to emit a delightful charm to any dazzling meal. Our inventory houses the best selection of serving tools that include buffet dishes, platters, sparkling cutlery, luxurious dinnerware and chic glassware too. All of these rentals have been curated keeping a plethora of themes and event types in mind, sure to impress you on first glance.
Line your event tabletops with luxe linen rental selections
Be it wedding linens or other event linen options, it's time to incorporate a magical selection of luxe linen rentals to your celebration's tabletops. We offer the most intricate variants of filter style options that include vintage, modern as well as traditional takes too. Choose from our decadent table linens, napkins, chair caps, napkin rings, runners, and more. Each piece is accentuated with beads, embellishments and sequins too for that alluring celebratory touch.
The right furniture rentals can elude a charming grace at your celebration
From chairs and tables rentals to all sorts of event furniture for your party, Trio Event Rentals has it for you. We bring forth for our Westlake Village clients the most impeccable seating options that can be filtered by hue and style. And the greatest advantage revolves around it being delivered right to your doorstep.
Choose from handcrafted creations that include rustic vintage classics, those accommodating a modern flair, industrial theme greatness or simply those encompassing that standard natural beauty. All of our furniture rentals focus upon good aesthetics, alongside durability and comfort.
Summary
Reviewer
Review Date
Reviewed Item
Party Rentals Westlake Village
Author Rating
Product Name