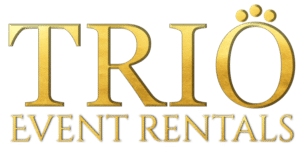 No matter what the occasion may be, a party has to be done just right in order to make sure that guests and hosts will enjoy themselves.  Even if it's something as "mundane" as a birthday party or a baby shower, you'll seriously want to consider the idea of hiring an event planner to help with that non of the less you will need to make sure you have the proper equipment for your celebration, Trio's Party rentals Hollywood offers exactly that. From exclusive chair rentals to rustic farmhouse tables we offer complete party rental service which will be a sure bet for your next event.
Benefits of Hiring an event rental company
You will instantly receive peace of mind knowing that all the furniture and party equipment you need for your party will be there at the day of the event. You could potentially Save some money and obviously time by going with our products that we offer and plan your event in advance.  When you take a look at TRIO's Hollywood party rentals professional service, you'll be able to give your party the following benefits:
Ensure a good time: When you select the items that you want for your party you will turn the vision in your mind to a reality by actually knowing what will go where you want, you'll be able to actually guarantee that your guests will have a good time at the party and that it'll be one for the history books, even if it's just a corporate event.
Make the most out of your budget: Our team of professionals knows how to make the most out of your budget and offer the best products that will fit your needs, Specially when you are thinking about glassware rentals and dinnerware

because even a few cents difference on every item could add up when quantities rise

.
Top quality party rental products: We always maintain our products to make sure they are in pristine condition at the time of delivery. We pride ourselves to have quality products that will guarantee to make your party a success and although chairs and tables are common and can be find anywhere it's important to remember that not all chairs are created the same.
Why Party Rentals Hollywood?
Now that we've got your attention, it's time to take a look at why we are going to be your ideal Hollywood party rentals professionals to trust.  After all, there is plenty of competition in the area and you don't want to get stuck with making the wrong choice.  Why should you come to us for your party rentals or event rentals?  We're happy to fill you in on all of the best details.
Widespread experience: You've done your research, so you know that Party Rentals Hollywood offers you the best place to get everything you want and need with the advantage of having experience with all of it.

 

You'll be able to rely on the professional guidance to host and execute a party of the top quality, whether it's a birthday party, a corporate event or a wedding reception.

 

Widespread experience means comfort with just about any kind of event.
One-stop convenience: When you need event rentals, you want to try to take care of everything in one go.

 

Your best options for local Hollywood party rentals in all of their forms, you'll be able to get everything you need in one stop right here.

 

This includes seating such as chairs or sodas, tables and buffet lines — complete with table settings and supplies —, outdoor equipment and gear, and even specialized transportation.

 

Everything you could possibly need will be available in one place, and your event planner will be able to make sure that you really are covered for all of your party needs.
Every detail is taken care of: When you're looking at equipment nada supplies, we offer delivery, set up and then pick up at the end of the event as well.

 

All you have to do is place a call to set everything up the right way, and you'll be able to sit back and relax for the event itself.

 

No rushing around to make sure that everyone's schedule is on track or to double check details on delivery or pick up. It's all planned and scheduled so that you really don't need to even know about it.

 

Just cogs in a wheel that will help you make your event or party a success.
Make your dream a reality: Last but certainly not least, going with us allows you to have pure control over your event so that the final display is going to be exactly what you never imagined possible.

 

From one detail to the next, everything will be done just right so that you can see how closely we've created your vision true to form.

 

All of the creative control with none of the physical labour or stress to go along with it!
Summary
Reviewer
Review Date
Reviewed Item
Author Rating
Product Name
Price
Product Availability