Planning A Dinner Party Wedding
Wedding ceremony planning can be a tricky ordeal, especially when it's your own event. There's so much that couples invest upon. From their time, money as well as effort, nailing the perfect wedding dinner doesn't come easy.
And that's exactly why Trio Event Rentals is listing down some fabulous expert tips for a sensational and memorable wedding dinner. So let's take a look!
6 Useful Tips for planning a dinner party wedding
Serve up your guests in absolute style
Let's face the reality; weddings happen once in a lifetime for most individuals so why not make it a memorable affair by all means. Asking your event Rentals Company for inspiration regarding a sublime sit down dinner is a great place to start. Know that dining experiences must be looked upon via a holistic approach and by that we mean giving guests nothing less than a stylish affair. Dinners with several courses, complemented by music in the background are fancy to say the least.
Mix and match the seating arrangements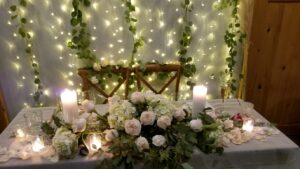 Just when you thought that the traditional round table setup was the only way forward, event planners have something a little extra special in store for you. Couples can opt to mix their seating arrangements for innovation and a tone that works closely against your meal. Maybe lounge chairs or low level couches could be an option worth investigating.
Having a sublime theme always helps
While getting all your favorite foods might seem like a great idea at first, trust the professionals when they say that foods that complement one another is sure to hit the mark. Common ideas such as ethnic selections or maybe a theme that revolves around childhood favorites or foods that carry meaningful significance in your lives are worth a glance.
Give that bar a personalized touch
A wedding dinner without celebratory drinks is a festivity left incomplete indeed. But why not switch things up a bit by giving that bar a personalized touch of sheer greatness. Some ideas that the professional event rentals love are signature cocktails, customized drink menus placed in front of guests, specialty drinks with meaningful names or simply over the top presentations that nail the aesthetics component seamlessly.
Keeping your wedding budget in mind, sort out the wedding dinner's menu
Sorting out your budget from the start has to be the most important thing ever for wedding dinners. This way, you'll have a clear idea of how much to spend and precisely which part to spend upon. Food has got to be one of the most pivotal elements worth considering, the menu especially. Whether you wish to splurge on seafood and champagne or keep things clean and minimalistic, the choice is all yours. A lot of it has a lot to do with the money allocated so caterers know the direction to head towards.
Be mindful of asking the right kind of questions
A good event planner as well as caterer can only be as successful as the direction being provided by the couple in charge. Think about the settings, any equipment required and wait staff too. Don't wait till the last minute for things like these because it takes time to devise a customized plan that revolves around your thought process.